There is no reason now to get off the Cherokee Turnpike, northeastern Oklahoma's toll road, at Locust Grove. The Country Cottage remains closed, few want to go to any other Locust Grove restaurants, and they've even called off a high school football game.
That's what happens when you are the center of a mystery outbreak of the rare E. coli 0100. The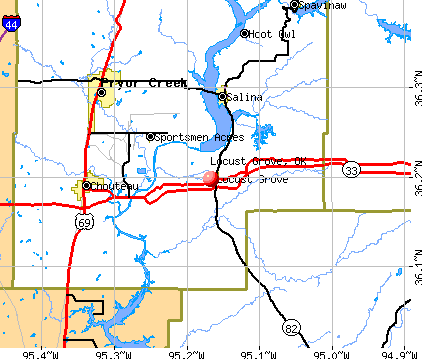 northeast Oklahoma outbreak is one of only ten, according to the Centers for Disease control. In the 10 previous similar outbreaks the source has been found in only two.
One was a salad bar at a cheerleading camp in Texas in 1999 and the other was unpasteurized apple cider in New York in 2004.
And even though the Oklahoma State Health Department (OSHD) says its safe for people to visit Locust Grove and eat in the restaurants that remain open, people are staying away and business is real slow.
It's bad. Everybody's having a real rough time surviving," said Linda Shipley, who has owned Cook's Restaurant for 17 years. "We know for a fact that the people who were sick were not my customers. It's kind of crucified us because of it."

For more on Locust Grove restaurants, go here.
But with more than 200 sick and one dead, people are moving through Locust Grove as quickly as possible. The nearby Wagoner School District even refused to bring its team into Locust Grove for a pre-season scrimmage.

"I'm responsible for those little kiddos and, here again, it being just a scrimmage, I didn't want to risk anything happening," said the Wagoner Superintendent.
Meanwhile OSHD has a big weekend planned.
"In our efforts to establish if there is an association with particular food items and illness, we will be interviewing more persons to find those who ate at the Country Cottage and did not become ill," said State Epidemiologist Dr. Kristy Bradley. "In an investigation of this scope, it is as important to collect information on those who did not get sick as those who did become ill. We've determined that our statistical database does not adequately represent those who ate at the Country Cottage but did not become ill."

OSHD has the names of 320 people who ate at the Country Cottage but did not become ill during the critical dates of Aug. 15-17 when most of the victims did partake at the popular restaurant.
These newly identified persons will be contacted this weekend to see if they can recall what food items they ate and if they got sick afterward. "This information is necessary so that we can make the distinction between what might have been a popular food choice versus a valid association with illness," Bradley explained.

The Foodborne and Diarrheal Diseases Branch of the federal Centers for Disease Control and Prevention (CDC) has joined Oklahoma's investigation.
Also on Saturday, Lexy Morton hopes to be able to get out of her hospital bed for her 13th birthday. She is one of the victims of the Country Cottage outbreak, and her story can be found here.